Helping a Friend or Loved One to Grieve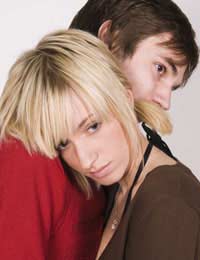 Grieving is painful, yet it is necessary for healing after the loss of a loved one. Some people are able to manage their grief quite well, and a sense of peace and acceptance comes readily, but for others, the process can be lengthy and agonizing. Each person must grieve in their own way, but the presence of caring friends and relatives can make the process more manageable.
Settling into a Routine
The first days and weeks after a death can be bustling with activity, but soon thereafter, visitors will return to their normal routines, leaving close survivors to cope on their own with the new chapter of their lives. This period of time can be especially difficult as daily activities will be familiar, yet unfamiliar at the same time. Established routines must frequently be adjusted and while employers and others may expect the bereaved to quickly resume their normal activities, some people require more time than others before they feel ready to return to their previous lifestyles. Friends can offer their support by making themselves available to listen to their grieving friend's concerns, and by encouraging (but not insisting upon) their friend's involvement in social activities.
Task Management
For a period after an important loss, many people feel incapable of handling even the simplest of tasks, but caring friends may help by bringing groceries or fully cooked meals, taking care of children to allow a grieving parent some time to themselves, or offering to go along on errands or appointments. The loneliness associated with grieving can be overwhelming, and it can be a great comfort to the bereaved to know that they are not alone.
Grieving Takes Time
In today's busy world, many people feel embarrassed if they are unable to bounce right back into their established routines after a short period of grieving, but the process can actually be quite lengthy. Friends and relatives can offer assurances that no matter how long they are needed, they will be available to listen and to help. The initial year after a death is filled with important "firsts," from birthdays and anniversaries to less anticipated stumbling blocks, such as the day that the flowers first bloom in the deceased's garden or the unexpected playing of a meaningful song. There will be reminders of the loss, in ways both large and small, for many years, but the first year after a death is often filled with poignant moments that will bring forth floods of memories. Letting a grieving friend know that they are free to mourn in their own way, at their own pace, without worry of judgment, can be one of the greatest gifts of friendship.
Warning Signs
Sometimes, normal grieving is replaced by an inability to function at all, and one of the duties of friends and loved ones is to be on the lookout for signs of trouble. Lingering depression, manifesting itself in deep and lasting sadness, loss (or a dramatic increase) of appetite, social withdrawl, extreme anxiety, sleep disorders, or thoughts of suicide require intervention by a professional, either a trained grief counsellor or psychologist, preferably one who specialises in bereavement care. Friends need to look out for one another, especially in times of crisis.
You might also like...