Letting Employers Know about Your Illness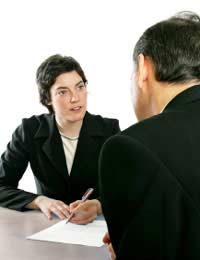 Once someone has received news of their terminal illness, many have difficulty informing the people in their lives, including their employer. At some point, however, employees must approach their bosses to let them know about their illness, especially if the sickness will have a direct impact on the employer in terms of absenteeism or the ability to complete normal tasks.
How Employee Illness Impacts the Workplace
Many people spend more of their waking hours with co-workers than they do with their families, so it is perfectly natural that close, personal relationships often develop at work. Because of this, the serious illness of one employee can have an enormous impact on others at work, which can affect productivity, especially in small, close-knit companies. Additionally, a terminally ill patient may need to work a reduced schedule to accommodate medical appointments and treatments, or simply because they are not healthy enough to work as much as they once did. Being upfront with the employer as well as with other employees can help everyone to be understanding and supportive, and can help to avoid any feelings of resentment that may crop up if coworkers are unaware of why one employee seems to be getting "special treatment."
Focusing on Career when Terminally Ill
While most people tend to re-prioritise a bit once they've been diagnosed with a terminal illness, not everyone is in a position to (or has a desire to) leave their jobs behind. Some stay for financial reasons and others simply want to keep their lives as normal as possible, for as long as possible, but in any case, it can certainly be difficult to focus on work when the stress and anxiety often associated with terminal illness weighs heavily on the mind. Informing the employer of the situation can help, easing worries about job performance by getting their reassurance that some flexibility is available as they work through the physical and emotional challenges of the illness.
Quitting a Job Due to Illness
The specifics of terminal illnesses can vary greatly; some patients progress rapidly into debilitating symptoms while others may remain capable and energetic for a longer period of time. At some point, though, most diagnosed with a terminal illness will need to give notice that they will be quitting their jobs. When possible, an ill employee should try to approach their employer with as much notice as possible, but that is not always easy to do. The progression of illnesses can be unpredictable, with most patients experiencing a number of ups and downs before a period of steady decline ensues. If the patient wishes to continue working for as long as they are able, they will need to express this desire to the employer, asking for a bit of understanding. Some companies are able to afford this type of accommodation, while others may require that employees fully keep up with their assigned responsibilities or leave their positions.
Balancing Honesty and Privacy at Work
One of the toughest aspects of sharing the news of a terminal illness with an employer is the inevitable loss of privacy. Most often, employees maintain a respectful distance from their bosses in matters of a personal nature, but if an illness is going to impact an employee's ability to perform their regular duties, employers have a right to know why. For those who prefer that co-workers not be informed of their conditions, though, the right to privacy should be maintained. Once news of a terminal illness is out, the employee is sure to be bombarded with questions and well wishes from well-meaning co-workers, and for some, this attention can be uncomfortable. When breaking the news of their terminal illness to their employers, patients need to be very clear about their desires regarding privacy.
You might also like...
Kelly - Your Question:
My partner was diagnosed with kidney cancer last year. His employees have been great throughout, giving him time off for the illness, surgery and recovery. All on full pay for 3 months and then shorter hours when he did return and very supportive. Unfortunately the cancer has come back after only a few months, very aggressively and has spread to lots of places and he has been told he is terminal with just a few months to live. He has told them it has come back and again they have been great with time off and pay. With this all happening in a fairly short space of time, they are not yet aware of the terminal diagnosis or timeframe. Looking to the future and thinking about my family, my question is - my partner has a policy with his company where a benefit is paid if he dies in service. If they are told now, what are they likely to do ? They have been brilliant up to now, but I just worry what could happen once they find out, or what their options are and if we have any protection. I don't want them to terminate his employment and leave myself and my children in financial hardship.Thanks
---
Our Response:
I am so sorry to hear this. You would have to read the terms of the policy and/or speak to the policy provider directly, as I'm afraid this is beyond our remit to advise.
TerminalIllness
- 15-Jun-17 @ 10:56 AM
My partner was diagnosed with kidney cancer last year. His employees have been great throughout, giving him time off for the illness, surgery and recovery. All on full pay for 3 months and then shorter hours when he did return and very supportive. Unfortunately the cancer has come back after only a few months, very aggressively and has spread to lots of places and he has been told he is terminal with just a few months to live. He has told them it has come back and again they have been great with time off and pay. With this all happening in a fairly short space of time, they are not yet aware of the terminal diagnosis or timeframe. Looking to the future and thinking about my family, my question is - my partner has a policy with his company where a benefit is paid if he dies in service. If they are told now, what are they likely to do ? They have been brilliant up to now, but I just worry what could happen once they find out, or what their options are and if we have any protection. I don't want them to terminate his employment and leave myself and my children in financial hardship. Thanks
Kelly
- 13-Jun-17 @ 1:42 PM