The Importance of Allowing the Grieving Process Following a Loss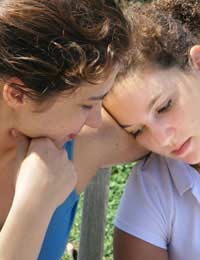 Grief and mourning are perfectly natural reactions to loss. The death of a loved one, even when that death was expected, is an enormously stressful event, often leaving survivors uncertain as to how they will move on.
Expressing Emotions
While crying is common amongst those who grieve, not all mourners cry, especially at first. A feeling of shock or numbness may be the initial reaction to news of a death, and it can take time for some people to move on beyond the disbelief. Everyone feels and responds to loss differently, but all should be allowed to express their emotions in whatever ways feel most natural for them. While the time frame varies from person to person, a release of emotion can be expected at some point.
Self Care
Sadness and depression are painful aspects of the grieving process, but it is important for the grieving to make some effort to care for themselves. It is not uncommon for everyday tasks to seem overwhelming, especially during the stretch of time after the initial rush of activity has subsided and survivors are left to their own devices. Typically, those closest to the deceased are initially surrounded by others, but within a short period of time, the well-wishers resume their normal routines, leaving the grief-stricken to begin the process of rebuilding their lives. Though they may not feel much like participating in their previous activities, those who are grieving should strive to:
Eat well and get plenty of rest. Healthy food provides the fuel necessary for energy and activity, and adequate rest is vital for overall health and healing. The overwhelming stress associated with grieving can comprise the body's natural immunities, so extra care should be given to taking care of physical health.
Get some fresh air and exercise. It doesn't have to be a lot, but it important to get outside for a little each day and make time for some form of physical activity. Even a short morning walk can make a big difference.
Try to reduce stress. Activities such as yoga and meditation can help with stress, depression, and anxiety, all common during the grieving process.
Reach out to others. People are often eager to help friends and loved ones who are grieving, but may not know what to do unless they are asked. Support groups are also readily available for those who are grieving.
Express emotions. Some people are comfortable to talk about their struggles while others are not. For those who prefer to keep their feelings private, keeping a journal may be of benefit.
Helping Someone to Grieve
Offering comfort to a grieving friend can sometimes make people feel anxious, worrying that they will say the wrong thing, yet knowing that there are people who care can be quite healing for those who are in emotional pain. Friends and loved ones should not hesitate in offering their help, whether with daily tasks or merely a willing ear. Loneliness can compound grief, so it is important that friends make themselves available after someone they care for has experienced a loss. Helping with meals, encouraging exercise, and sharing memories can all help the grieving to heal.
When to Seek Help
There is no set timetable for grieving – it simply takes however long it takes, but there are things that can signal a need to seek professional help. Some people feel overwhelmed by their grief and find themselves unable to perform even the simplest of tasks. While depression is considered normal to a degree, a continuing sadness that fails to lift may require the help of a mental health professional. Many emotions are associated with the grieving process; guilt, sadness, anxiety, anger, and the desire to withdraw socially are all common. If any of these symptoms persist or interfere with the grieving person's ability to function, or if suicidal feelings exist, help should be sought promptly.
You might also like...
I lost my soul mate 5 yrs ago and Im still feeling the sadness in a way that it hurts physically. I find myself crying at the thought of him and having a drink to not feel or think about it anymore. I recently stated seeing a counselor but im still not in a good place with it. What do I do??
Amy
- 22-Jul-13 @ 7:28 PM