Understanding the Grieving Process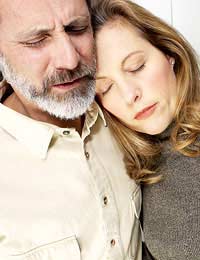 Grieving is a very personal experience, with each person working through the stages of grief in their own way, but those who are having an especially difficult time coping with grief may benefit from grief counselling.
While grief is typically associated with the feelings that one experiences after the death of a loved one, the grieving process often begins earlier, at the diagnosis of a terminal illness of someone close.
The Stages of Grief
While everyone embarks on their own journey through grief, there are many commonalities that those who are suffering share. In her work on death and dying, Elisabeth Kubler-Ross described the five stages of grieving that many people work through, though she acknowledged that not everyone experiences all five stages, or goes through them in the same order.
The grieving process can be associated with not only patients themselves, but their loved ones, as well.
Denial: Complete disbelief is a typical first reaction to a terminal diagnosis.
Anger: "Why me?" is a common feeling amongst the terminally ill and those who love them. Illness is never fair, so feeling angry about being one of the unlucky ones isn't at all unreasonable.
Bargaining: Once the reality of the situation has been fully understood, many terminally ill patients begin to consider upcoming events that they fear they will not live to see. Hoping and praying for enough time to attend an important event is common.
Depression: Extraordinary sadness is commonly the last step before acceptance. To a degree, allowing the sadness is a form of acceptance – no longer holding out hope that there has been a misdiagnosis or that the patient will beat the odds.
Acceptance: While not everyone finds acceptance before death, those who are able to come to terms with their fates may have a greater sense of peace than those who continue to fight.
It's important to note that there is no one "right" way to grieve. Some people seem to cope better than others, but grieving can be a long and complicated process, with many people making progress, only to take a step back and regressing to a less comfortable place. Reaching out for help from others can be beneficial for those who are having trouble managing their feelings.
Techniques for Managing Grief
For many, having someone to talk to can be the best way for them to work through their grief, so dedicated friends and family members should make themselves available as much as possible. Those who are not comfortable to be completely open with those closest to them may benefit from participating in a grief support group, either in person or online. Grief counsellors can be of great assistance too, helping people to take small steps toward healing.
Many people find that when they keep busy and redirect their focus to the needs of others, their own feelings of despair seem more manageable. Care must be taken, however, to be sure that one doesn't use other activities to avoid dealing with their feelings – to do so simply postpones the grieving process, rather than avoiding it.
Grief Counselling and Support Groups
Talking with someone who truly understands what grief feels like can be enormously helpful for those who are feeling swallowed up by their feelings. Support groups are often made up of people who are or have gone through very similar experiences, so members may be able to offer each other a level of understanding that their loved ones may not. Being surrounded by supportive and sympathetic friends is helpful, of course, but oftentimes, it is only those who have walked the same path who can truly understand what it feels like.
Grief counselling can help terminally ill patients to find peace, and can be just as helpful for their loved ones, both before and after the death. Sometimes, people don't realise the depth of their pain until several weeks or months after suffering an important loss. Comprehension of the permanence of a death and the effect that it can have on daily life often isn't fully realised until survivors attempt to resume their previous schedules, only to find that they are unable to function as well as they once had.
Learning to Accept Loss
Unfortunately, most people will have to grieve at some point in their lives. Whether mourning one's own terminal diagnosis or trying to come to terms with the loss of someone dear, death touches all of us. Learning to accept loss is never easy, but it is important that survivors find ways to grow past the initial devastation and rebuild happy, meaningful lives.
You might also like...
I am independant Old Catholic Minister, my Ministry includes bereavement. I am able and willing to offer support in the time leading upto the passing of your loved one and the after care too.
RevRich
- 22-Jun-12 @ 1:55 PM