Online Support For Terminally Ill Patients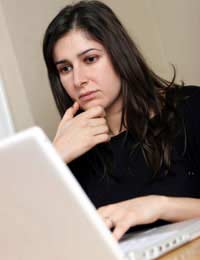 The diagnosis of a terminal illness can turn a family upside down. One day, everything is moving along according to plan and the next, a whole new plan must be formulated. The patient is likely to be devastated, of course, but friends and family members have their own struggles to deal with, too. Illness and grief support groups can provide help to everyone involved, and these days, that help can be juts a computer away.
Patient Support
Terminally ill patients have so much to deal with, both physically and emotionally; care options, treatments and side effects, pain management, stress and anxiety, fear, spiritual issues, and thoughts about end of life choices can all take their toll. Additionally, many patients feel the need to offer comfort and support to their friends and family members, worrying how their loved ones will fare both during the illness and after the death. Seeking out patient support groups can help make the process a little easier to manage, and many groups are available online. A quick internet search that includes the name of the illness along with the words "support group" will likely result in a number of choices.
Support for Loved Ones
Caregivers and loved ones of terminally ill patients are under a great deal of stress. Everyday tasks can be both physically and mentally exhausting, and the prospect of losing someone close is difficult to consider. Many people in this position set aside their own needs in order to offer help to their ailing friend or family member, but by doing so, they put themselves at an increased risk of illness. Seeking online support groups can provide an outlet for those who are grieving the loss or anticipated loss of a loved one, allowing them to talk about their experiences with others who have been through it, who may be able to help with coping skills. Grief support groups are typically designed to be rather specific - either by the type of illness or the relationship of the member to the terminally ill patient - in order to put people together who are likely to be experiencing many of the same difficulties.
Online Communities
In today's busy world, many people spend a great deal of time online, sometimes connecting with friends and family members through one of the many personal networking sites. The prevalence of online communities has given many people a sense of "neighbourhood," which is especially nice for those who live in rural areas or are simply too busy to spend a great deal of time in their actual neighbourhoods. Many people are surprised to find that the friendships they make online grow to be important to them. The close bonds formed online often provide comfort and solace when it is needed most. When a member is hurting, the others rally around to provide support. While this type of online support is not usually organised or professionally supervised, it can be beneficial nonetheless.
The easy availability of online support groups means that in this day and age, there is no need for terminally ill patients or those who love them to go through the experience without having someone to talk to. It can be quite trying to manage the emotional turmoil that accompanies serious illness, so reaching out to others who have been there is wise.
You might also like...
I have liver, lung and kidney disease. I live with infection, because of a biliary tube that goes through my bile duct, that was destroyed after I was shot, march 29th 1983. My tube is suppose to be changed every 5 weeks. This has gone on for 38 years. I got a new liver and now I have chirosis of my new liver, because I still have to have a tube, to take the bile to my bowel.
Grandpa
- 29-Oct-20 @ 12:29 PM
I am losing my husband of 45 years.He is in the hospital at this moment and I need a group that deals with this situation.He is my life, my everything and I am crying every day because I feel helpless and I cannot help him get better nor his doctors.He is a very loving person and I hate to lose him and have to deal with the loss.Its very hurtful not knowing when it is going to happen.Doctors cannot say.God help me because it has been going on for at least three years.Please help me understand why God makes us hurt so much with our love ones and if we can get over this grief.Thank you!
Maria
- 12-Aug-19 @ 5:20 AM
I have progressive degeneration because of an exposure that was toxic to me. Having trouble finding both Doctors andsupport. Any suggestions would be appreciated. Thank you .
Cyd
- 29-Jul-18 @ 4:43 PM
My family and I have been dealing with my sister who at age 51 is on hospice for stage 3C ovarian cancer.Would like to connect with other people who are experiencing a loved one in a family having a terminal illness.It has been a difficult 3 1/2 years for my sister and our family. We also have suffered the huge loss of my Son 5 yrs ago at age 19.
Oc sue
- 23-Aug-15 @ 9:18 PM
I have spino cerebellar ataxia,and some fatal stomach conditions as well, my husband takes care of me and it has been not good for our marriage and we have been trying to deal with my illnesses for 15 years and we keep trying but I am much worse now ,and unfortunately so is our whole situation financially his health and we really have no support (emotional) from anyone. I have 2 people in my family, one of then has the same illness different type. My son also has this, my typehe was sick at age 5 . We're all dealing with this on our own. it's us. That's it really just us. My son is moved out he is stugling in every way too he is 24 now. We both have excruciating pain also with this illness.I'm on morphine every 4 hours and a lot of other pain meds. And I'm here . I'm not in great shape I've lost 50 pounds in 4 months I'm still loosing. I can't seem to maintain my weight. I'm now 95 pounds.I eat a lot my husband is a big man and he can't believe it I eat more than him. I have muscular wasting. But at least I have an apitie. I'm berry week in a wheelchair most of the time. My husband is bipolar so he has his problems and unfortunately he is a goat a phobic and Mr chair has to be pushed I can not push it he does but he doesn't like leaving the house because he's a gor a phobic . So that makes me mostly a shut in. I 've nevertalked about it before.
Monkey girl
- 11-Jun-15 @ 7:16 AM
@lillz - I am very sorry to hear this. As specified in the article the diagnosis of a terminal illness can turn a family upside down. One day, everything is moving along according to plan and the next, a whole new plan must be formulated. The patient is likely to be devastated, of course, but friends and family members have their own struggles to deal with, too. Therefore, it may be that it's not just about the caring side of the marriage, but your ex might find the emotional side difficult to deal with also. I don't know if your husband is a good communicator, but some people find it difficult to articulate their emotions in situations like this, and in response may just clam up. This might have the effect of him seeming cold and uncaring, but this may not be the case and he might just be finding it too emotional. You don't say how long you have been married, but if it is a long time then it is bound to have an effect on both of you. As well as turning to online support, it may be useful for you to talk as openly to him as you possibly can and begin to try and re-build the bridges between you. Perhaps you could talk through past happy times. You both need support currently, and at the end of the day, the best people to get that support from is each other. I wish you all the best.
TerminalIllness
- 10-Apr-15 @ 12:44 PM
I have terminal brain tumours and my husband cares for me. We are struggling to see eye to eye on many issues and I feel the caring side has over taken our marriage I'm not sure how we can fix it
lillz
- 8-Apr-15 @ 5:49 PM
I have end stage cirrhosis, and am scheduled to begin hep c treatment
bear
- 29-Mar-15 @ 11:05 PM
I have MRSA meningitis along with osteomyelitis & a few other infections.
Angel
- 5-Aug-13 @ 8:34 PM