Choosing Guardians for Children Following a Terminal Diagnosis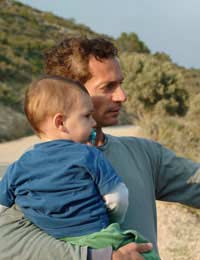 While there are many things that parents need to consider for the good of their children, one of the most important may be choosing prospective guardians. In an ideal world, all parents would live well into old age, giving them ample time to not only raise their children, but to bounce grandchildren on their knees. Unfortunately, things don't always work out that way, though, so parents must give thought to what would happen to their kids, should the children find themselves prematurely parentless.
Choosing Well-Qualified Guardians
When parents sit down together to discuss the possibility of their children being raised by other people, they must walk the fine line between complete honesty and careful consideration of the other's feelings. Rarely is it necessary to voice your innermost feelings about the members of your own family, let alone those about your in-laws, but a certain amount of taking stock is necessary when choosing possible guardians for children. Selecting the folks who would be responsible for guiding children into adulthood is a very serious matter, though, so taking an honest look at their qualifications is vital. Some things to consider:
Financial Responsibility: While it is assumed that the proceeds of life insurance policies will help with the expenses associated with providing for the children, it is still important that potential guardians have the ability to provide a financially stable environment.
Religious Beliefs: For some families, participation in organised religion is considered vital. For those who take a strong religious stance, they should be sure that potential guardians feel share their beliefs.
Robust Health: While there are no guarantees that prospective guardians will remain healthy, parents should take the health status of family members into consideration. Depending on the ages of the children, guardianship can last for many years.
Lifestyle Choices: Looking at the daily lifestyles of prospective guardians is important. Do they smoke? Drink? Eat well and exercise? Do these things matter, or are they not especially important to parents? Each set of parents will have their own opinions about such matters, but they should definitely be discussed.
Domestic Stability: Often, when guardians are considered, they are viewed as a couple, but in reality, not all couples will remain together. Divorce is common, so parents need to think about the possibility that only one member of the duo may actually take hands-on responsibility for the care of the children. Likewise, those who are considering naming a single guardian must consider the addition of a yet-unknown partner.
Attitude and Aptitude: Finally, the willingness and ability of prospective guardians must be taken into account. Couples with children of their own may or may not welcome the addition of more children, childless people may not wish to include kids in their daily lives, and those nearing retirement may not want to postpone their freedom by raising another generation of children.
Making Wise Selections
Most often, parents first look to members of their families when considering people who would be willing and able to provide loving homes for their children. Grandparents or aunts and uncles would seem to be the most natural choices for many, especially since these people are likely to have already formed loving bonds with the kids, a fact that would be comforting to children whose world has been toppled by the loss of their parents. Sometimes, though, members of the immediate family are not the best choices for raising children, so parents may choose friends with whom they share close and lasting relationships. In any event, once parents have chosen the people who they feel would be best for their children, it is important that they sit down with the selected guardians to be sure that such a responsibility would be welcomed.
Making it Legal
Protecting the future of one's children, especially in the event that parents won't be able to oversee their care personally, is a responsibility that every parent should take seriously. Without legal documents on file, parents take the chance that the court may award guardianship of their children to someone other than who they would themselves choose, so every parent should take the time to consider who they feel is best suited to raise their children, confirm with the chosen person or people, and then seek the advice of an attorney, who can help them to draw up the necessary paperwork. Once completed, the document should be kept in a safe location along with other important papers. Parents should review all of their legal documents annually, or as life changes dictate.
Parenting is filled with many joys, and just as many responsibilities. Sometimes, parents must do things that they find uncomfortable when acting in the best interests of their children – and selecting guardians is one of those things. Like most difficult tasks, though, the process of documenting parental wishes for care of their children is usually not as bad as might be expected and the sense of relief after the decisions have been made is enormous. Most people who are asked to act as guardians to a friend or relative's children are flattered. After all, being chosen is quite an honour.
You might also like...