Dealing with Stress and Anxiety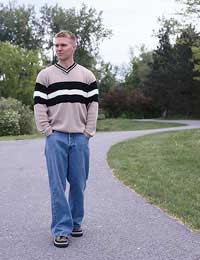 Providing care for a terminally ill friend or family member can be very demanding, both physically and emotionally. Caregivers frequently find themselves overwhelmed by stress and anxiety, sometimes leading to burnout. By taking measures to deal with the stress that they are under, carers can minimise their own discomfort, enabling them to best meet the needs of their terminally ill loved one.
Natural Stress Management
Life is stressful, even when things are running smoothly. More turbulent times increase that stress, sometimes causing people a great deal of difficulty. There are things that can be done to help manage stress and anxiety so that they do not become overwhelming, all of which are simple and free.
Eat well. A healthy diet rich in nutrients can go a long way toward helping caregivers to cope well. Frequently, carers are so busy looking out for another that they fail to pay enough attention to their own needs, grabbing quick snacks or fast food, rather than fuelling their bodies for the demands that they are placing on it. Choosing whole grains, fruits, vegetables, and lean sources of protein can help caregivers to feel healthy and energetic - sweets and caffeinated beverages should be kept to a minimum.
Exercise every day. Rigorous exercise is a natural stress reducer, easing the symptoms of depression and anxiety that can be common to caregivers. Additionally, exercise can increase energy, which can dwindle when people are feeling overwhelmed by the tasks and emotions associated with caring for a terminally ill loved one. Even a brisk walk can provide benefits.
Get some sleep. Caretakers often shortchange themselves on sleep in order to spend extra time with ailing loved ones, but sleep deprivation can increase stress and anxiety and is detrimental to overall health. Avoiding stimulants such as caffeine and nicotine can help, as can getting a bit of daily fresh air, exercising at least a few hours before bedtime, and establishing a relaxing evening routine. A warm bath and a bit of quiet reflection before bed can promote sound sleep.
Take breaks. Everyone needs some time to relax, and those who are caring for a terminally ill loved one need it even more than most. Even short breaks can help, as long as they are taken regularly. Removing oneself from a stressful situation to read, socialise, or listen to music can help them to return refreshed and ready, beneficial for the caregiver and their ailing family member, too.
Taking Time to Relax
Sometimes, caretakers feel guilty about needing time away from their responsibilities, but the need for relaxation is perfectly natural and healthy. If possible, family members can alternate caregiving duties so that all members can tend to their own needs, as well as those of the patient. In small families, those who are separated by geographical distance, or have schedules that prohibit them from actively participating in the care, professional respite care may be in order. Respite care offers families the opportunity to redirect their focus away from the stresses of caring for a terminally ill member, allowing them time for outings, uninterrupted meals, or other activities that help to manage stress and minimise anxiety.
When to Seek Help
At times, caregivers become so overwhelmed by the demands that are placed on them that they can no longer function properly. Burnout is common amongst caretakers, especially if they are not offered much assistance with the daily tasks required to care for a terminally ill loved one. Carers who find that they are unable to relax, have trouble sleeping, or have symptoms of depression that do not respond to lifestyle changes may want to consult with their GP. Unlike professional caretakers, family members who take on the responsibility of daily care of a loved one are also dealing with their own feelings about the impending death, increasing their stress levels. There is no shame in seeking help; in fact, it is often the wisest thing to do.
Caring for a terminally ill loved one is sure to escalate stress, but when caregivers are supported and encouraged to take care of themselves, that stress can remain manageable. The last weeks and months of a loved one's life will be remembered by survivors for the remainder of their days, it is important that they don't look back at that time as having been unceasingly stressful.
You might also like...