Feeling all Alone After a Terminal Diagnosis: A Case Study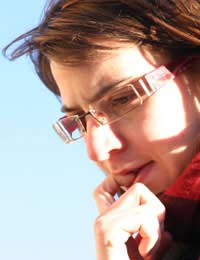 Life, for everyone, has its ups and downs. When we are faced with challenges, from everyday stress to a life-altering crisis, most of us rely on support from friends and family to lessen the burden. Sadly though, it is sometimes during the hardest moments when we find ourselves alone, making a trying time even more difficult to handle.
One Woman's Story
Diane was newly single when she found the lump. She and her husband of almost sixteen years had divorced earlier in the year, and she was just beginning to rebuild her life. Her closest friend accompanied her to her first few medical appointments and was by her side when she got the diagnosis. "I was so frightened," Diane says. "So very frightened."
Diane's friend was an enormous source of strength during her initial course of treatments, as were several of her other friends. "They were amazing. I don't have children and both of my parents are gone. My core group of friends is my family. And they were there for me. They kept me company and prepared meals for me—they even made me laugh when all I wanted to do was cry. Unfortunately, as things got worse for me medically, my friends, one at a time, seemed to disappear."
Left Alone
Sometimes, caring for a terminally ill loved one can become overwhelming. Sometimes, people worry about saying the wrong thing, so they say nothing at all. Sometimes, people are so uncomfortable with death and dying that they cannot bring themselves to be around someone who is terminally ill. And sometimes, a dying person finds that the people who have meant the most to them in life abandon them as death draws near.
There are many possible reasons why a terminally ill patient might find themselves virtually alone when they are at their neediest, but being in that position is certainly devastating. Diane has accepted the fact that her time is limited. She has exhausted all of her treatment options and is now focusing on comfort care for the remainder of her days. But she is lonely and she is frightened, and though she has the help of several professional caregivers, what she really wants is to spend some time with those women who have meant so much to her.
She wants them to hold her hand, she wants them to listen to her and show her that she matters. "I feel that it would be selfish of me to reach out to them," she says. "I know that it is not fun to be around me now. But I do miss them terribly and I feel very alone."
A Lesson for Us All
Diane is a freelance writer, so she has always spent a great deal of her time alone. Her work is mostly solitary, and while she enjoys outings and social gatherings, the past several years have been difficult for her in that respect.
When she divorced, she lost touch with some of the friends that she and her husband shared. "It was strange, but not at all uncommon, I suppose," she says. "We didn't have any children, but there seemed to be an unspoken 'custody' arrangement when it came to our friends."
Her diagnosis and the course of her illness have further separated her from her friends, though that has been much harder to accept than the losses that came after her divorce. "I expected some of that," she explains. "Some were more his friends and some were more mine—it seemed natural enough that we would maintain the friendships that were mostly ours. But this, the loneliness I'm feeling now, this I don't understand. I would be there for them."
"I wonder why they've gone," Diane says. "My guess is that they are uncomfortable and unsure of what to say or do. What they don't realize is that I'd rather have them here and saying what they might think are the wrong things than to have them gone from my life."
You might also like...
I feel as Diane. But, I have 3.grown children. They are here for me in crisis even though none of us lives geographically close. My lonliness stems from having been a career travel nurse exacerbated by the death of my father in 2011, my best friend of 32 years in 2013, my mother in 2014, and my husband in 2015. I took care of him his last year as we also faced my terminal diagnosis. I was left in my rural area to grieve and continue with my chemotherapy alone. Loss of career, family, and friends made this a journey of solitude and pragmatism. I underrstand the realities of my childrens busy lives and am not expecting daily phone calls. But, when I recently reached out and said weeks can, and have, gone by without a call from any one of them, I felt chastised. The dreaded term "pity" came up. Is it wrong to expect they adjust thier paradigms to include time to speak with me about something other than my health?
Debra
- 15-Nov-16 @ 1:37 PM