Preparing Keepsakes for Loved Ones : A Case Study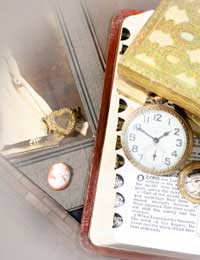 Death is a sad fact of life. It's probably safe to say that every one of us carries a certain amount of another person with us, even long after they're gone, but in time, memories, even our dearest ones, do fade. For the terminally ill, the notion of leaving heartsick loved ones is often a heavy burden. By preparing special keepsakes, terminally ill patients can be sure that their memory will be preserved and that those they care for most will have the comfort of tangible reminders of the love that was shared.
One Daughter's Story
After battling a long illness, Vonnie's mother passed away when the girl was just fourteen. Now in her thirties, Vonnie's memories of her mother are still strong, though she is sometimes troubled that certain specifics have been lost. "I wish I could remember the sound of her voice," Vonnie says. "I remember that she had a lovely voice—very soft and sweet—and that she liked to sing. But I can't quite bring to mind exactly how she sounded, and that makes me a little sad."
What Vonnie does have, however, are letters that her mother wrote to her throughout her illness, and those letters are quite precious to her. "My mum started writing to me shortly after her diagnosis, and she kept at it almost until her death. Some of the letters were given to me at the time they were written, but the majority of them came later, after she was gone."
A Mother's Love
Vonnie recalls the day when her father handed her the first of the letters that her mother had written and set aside for her. It was shortly after her mum had passed away, and just holding the paper that her mother had touched not so long before brought her comfort. "I remember pressing the envelope against my cheek and feeling as if her hand was right there, brushing away my tears. I must have reread that first letter hundreds of times. It held the sweetest words—it was a love letter in its purest form."
Life's Moments—Large and Small
More letters came in time, her dad doling them out at pre-determined times or for specific events in Vonnie's life. The letters were filled with love and advice from mother to daughter, and although they couldn't compensate for her mum's absence, Vonnie says that having her mother's words to guide her helped make some of the most difficult times easier.
When Vonnie began to date, a letter was given to her that contained straight talk about everything from declining an invitation gracefully to the importance of postponing sex until one was emotionally ready. "She advised me to wait until I found the man I wanted to marry," Vonnie says with a smile. "I think I may have let her down on that one."
In time, all of her mother's letters had been given to her, the last arriving on the same day as Vonnie's first child. "My dad was crying when he handed that one to me," she said. "And my dad does not cry."
When asked what advice the final letter contained, Vonnie answered, "She didn't offer any parenting advice. What she did say was that when I held my newborn, I would truly understand the depth of the love that she had for me. And she was right."
Preserving Memories
Vonnie's letters are without doubt her most treasured material possession. Holding the sheets of paper that her mother had once held and reading her words—pages filled with the hopes and dreams that every parent has for their child—may bring tears, but they are happy ones. "The line between life and death is a fragile one," Vonnie says. "When I read my mother's letters, her love is very much alive."
You might also like...
I need to know how to help my friend who just got the news that She has cancer in an advanced state. Now she is in a denial stage, but I know that it is going to get worse, and would like to be that ear she needs.
Matilda's Mom
- 3-Sep-11 @ 11:45 PM