What to do When Your Child Has Terminal Illness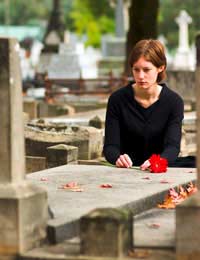 The death of a child is probably every parent's worst fear, yet every year, parents around the world must face this reality. The natural course of events calls for children to outlive their parents, so losing a child may be one of life's harshest trials, forcing parents to dig deep for the strength to go on.
Guilt and Depression
Most parents who lose a child experience overwhelming feelings of guilt. Although it is likely that nothing could have been done to save their child, parents have a tendency to carry the emotional burden of feeling responsible for everything that touches their children. Illness and accidents are sometimes unavoidable, yet parents who have lost children may replay every choice they had ever made for their child, wondering if their actions (or lack of action) may have been to blame for their child's death. This type of thinking, while normal, can hinder the healing process necessary for parents to continue functioning in their lives.
Sadness and even depression are normal after the death of a child, especially in the first months after the loss. Every aspect of daily living serves as reminders of the loss, keeping parents locked into their cycle of unyielding grief. While feelings of sadness are perfectly normal, parents who experience symptoms of ongoing depression or harbor thoughts of suicide should seek professional counseling. The loss of a child is not something to forget, but learning to move on is both healthy and necessary.
Functioning through the Pain
Some parents who have lost a child say that the only reason that they are able to function is that they have other children to care for. Death affects an entire family, and siblings of a dead child need to be able to count on their parents for emotional support as well as for regular, daily care. Parents who have lost their only child must try to find other reasons to continue participating in life – friends and family members should make every effort to provide the loving support needed to help grieving parents to deal with their feelings.
Healing
While parents who have lost children will attest to the fact that life never fully returns to normal, some can say that their lives, while different, are still rich and meaningful. The initial numbness often associated with the death of a child is slowly replaced by anger and agitation. The emotional realisation of the loss often takes longer than the intellectual one. In time, anger may be replaced by deep sadness, with parents withdrawing from loved ones and suffering an inability to cope with daily chores. Supportive friends and family members can offer hands-on help during this time, taking care of chores and errands, and providing a willing ear for the grieving parents. For most people, the extreme emotions lessen in time, allowing them to resume their lives, changed, of course, but continuing.
Finding Meaning
Some parents find relief from their grief over losing a child by attempting to give meaning in the death. For instance, if the child had been taken due to illness, the parents may become active in fundraising for a cure or in cases of accidental death, in raising public awareness of the risks involved with using a specific type of product. By helping to spare other parents the grief that they are feeling, some parents find that they are better able to cope with their own loss.
Grieving takes time and the process is different for everyone. Some parents are prone to emotional outbursts, while others are more comfortable sharing their feelings with only a select few. Typically, the most intense period of grieving lasts for a year or two, but some people heal sooner than others. The loss of a child is something that stays with parents for the remainder of their days, but if feelings of sadness and loss become unbearable or fail to improve with time, professional counseling should be sought.
TERMINAL ILLNESS IS FOR SALE.
This website is for sale [more info].
You might also like...