Preparing for Difficult News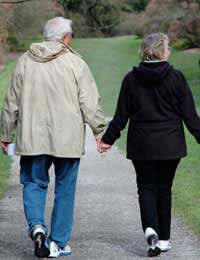 It seems fair to say that absolutely no one can be truly prepared for the arrival of difficult health news, but the fact remains that most of us will at some point be faced with a personal health crisis. Few people are fortunate enough to live in robust health to a very old age and then die peacefully in their sleep, never having experienced the anxiety-provoking feelings that are likely to accompany serious illness.
Practice Preventative Medicine
Life comes with no guarantees and is often unfair. Few situations display this inequity more than the diagnosis of serious or terminal illness. Frequently, terminal patients will wonder why they were singled out for such a fate, especially if they have been living lifestyles that are thought to promote health and fitness. Sometimes, a person will have lived by the guidelines said to prolong life and yet will fall ill while acquaintances who indulge in a host of unhealthy behaviours remain relatively unscathed. Not fair, to be sure. Despite this seeming incongruity, the need to practice preventative medicine cannot be understated. Diagnosing an illness in its earliest stages can have a dramatic effect on the prognosis, so living well and scheduling regular medical exams still offers patients the best chance for survival when unexpected illnesses surface.
Seek Support
Bravery is often over-touted. There is nothing wrong with being afraid; in fact, fear and anxiety are perfectly normal reactions to undergoing medical tests that may uncover serious illness. Patients should feel no pressure to "put on a brave face" or pretend to feel anything other than what they actually feel. The prospect of learning the results of medical tests can be intimidating, but by seeking the support of a trusted friend or relative, difficult news can be easier to bear. Asking someone to come along to hold a hand during medical exams and especially to be present when the results are in can be of great help – and can be useful from a purely logical standpoint, as well. Often, those first few minutes after getting an unwelcome diagnosis can be a bit of a blur for patients, who may feel a sense of unreality. A well-chosen support person can offer a shoulder to lean on as well as having the presence of mind to seek answers to the patient's questions, since they may not be able to fully focus on the conversation.
Do Your Homework
Before arriving for the appointment that will reveal a diagnosis, patients are wise to do a little advance preparation. It is likely that they have been given some idea what illness or illnesses might be suspected, so doing a bit of preliminary research about the possibilities may be wise. By learning a little about the potential diagnosis, patients can prepare lists of questions about prognosis and treatment options. It's important that patients avoid self-diagnosing or jumping to conclusions, though, since some of the information that they may find in their initial research may prove to be inaccurate. The internet, where most people turn first for information, is filled with both quality information and quickly written, un-researched pieces that can sometimes do more harm than good.
Hold on to Hope
Even when given the direst of news, patients should try to focus on the fact that each person handles illness in their own way and that even folks who are considered terminal sometimes prove their doctors wrong. The first course of action after receiving a serious diagnosis should be to seek a second opinion. Even the most highly qualified medical professionals make mistakes and patients should be encouraged to verify the test results (and even submit to new or additional testing) before considering a diagnosis to be certain. If further testing confirms the initial diagnosis, patients can then explore possible courses of treatment.
Waiting to hear about the status of one's health is sure to be a trying experience. Of course, all patients should hope for the best possible diagnosis, but it can be beneficial to do at least a bit of preparation in case the news is less than ideal. Being diagnosed with a serious illness can make even the strongest of people feel a little weak in the knees. By readying themselves for the possibility of difficult news, though, patients can begin the process of fighting for their lives.
You might also like...