Funeral Options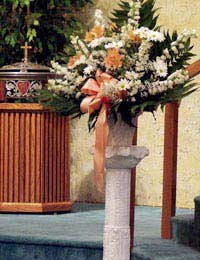 Many people find it uncomfortable to consider their own death or the death of a loved one, but both are inevitable. There are a number of funeral options available in order to best meet the needs of individuals and their families.
Choices
Commonly, families consult with a funeral director to plan the services and burial or cremation for a recently deceased loved one, allowing the professionals to handle all of the details. While this is the most traditional procedure, it is by no means the only option.
Family members can be directly involved in every step of the planning if they desire or they can simply give the funeral director a few guidelines, such as whether or not to plan a religious ceremony, and if the family will provide bearers (those who carry the coffin) or will utilise the services of bearers provided by the director. Funerals are typically held in one or two parts, either at only a crematorium/cemetery or at a place of worship followed by a committal at a crematorium or cemetery.
In recent years, there has been an increase in woodland burials, especially by those who wish to find less expensive or greener alternatives to traditional burials. Coffins are biodegradable, made from wicker or cardboard, no embalming is performed, and in most cases, plaques are replaced with the planting of a memorial tree. While still not as commonplace as traditional funerals, eco-funerals are growing in popularity, with many woodland and meadow burial sites available across the country.
Pre-Planning Funerals
Some people choose to pre-plan their funeral arrangements to spare their family members the stress of handling such tasks during their time of bereavement. Funeral directors can work with patrons who wish to make such arrangements, helping them to select coffins, types of services, burial or cremation preferences, and can even make note of favoured prayers, readings, musical selections, and flowers.
Pre-planning funerals can help some terminally ill patients to feel a sense of control and comfort in knowing that their wishes regarding after-death arrangements will be honoured.
Legal Considerations
In all cases of death, if a will is in place, it should be located as soon as possible so that the wished of the deceased can be known. Often, in addition to instructions as to the recipient(s) of the estate, funeral preferences may be indicated in a will, making it vital that the paperwork is readily available soon after a death occurs.
Matters of organ donation, burial/cremation preferences, disbursement of assets and personal property, and guardianship of minor children may all be covered in a will. Typically, one person is named to see that the wishes of the deceased are carried out, most likely a close relative.
Matters of wills and probate issues can be complicated so seeking legal counsel may be wise, especially if the estate is considerable or if disagreements arise amongst heirs.
Grief and Healing
The grief that survivors suffer after a significant loss can be incapacitating, especially in the first days, weeks, and months after a death. Survivors should allow themselves the time and space that they need to heal, and should seek out the company of caring friends and relatives to help them through this difficult time.
The gathering of loved ones at funerals and memorial services can be a great source of comfort, but once the mourners have returned to their everyday routines, those who were closest to the deceased are left to rebuild their lives. This process takes time, but for most people, a return to happiness is possible.
You might also like...