Accepting the Assistance of Others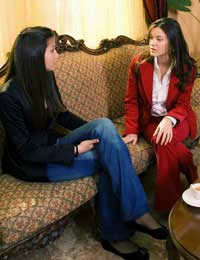 Many adults find it very difficult to accept help from others, priding themselves on their ability to handle everything themselves. During times of crisis, however, such as when they learn that they or a loved one are terminally ill, even the most capable people may realise that they need some help and support.
Hands-On Support
The diagnosis of a terminal illness can signify the beginning of a whirlwind of activity – appointments with doctors for confirmation of the diagnosis, research, treatments, visits from concerned friends and family members, and a sense of urgency regarding things yet undone and unsaid can be overwhelming for newly diagnosed patients. This complete upheaval of regular routine can prove difficult for many people, most of whom have been accustomed to a sense of order in their lives. While it can be unsettling to deal with all that comes with illness, many terminally ill patients are surrounded by networks of dedicated loved ones, ready and willing to offer their assistance in any variety of ways. Often, different friends and relatives are able to combine their talents to provide transportation to appointments, help with housework and errands, advice on legal and/or medical issues, and simple companionship.
Emotional Support
While many terminally ill patients require considerable assistance managing their daily lives and care, some find that they crave emotional support even more than they need hands-on care. Friends and family members who make themselves available to listen to the hopes, fears, and preferences of the dying can help to make their last weeks and months of life as comfortable as possible, and may even be able to guide their loved one toward a sense of peace and acceptance about their situation. While each of us understands that we have only so much time, those who are faced with the prospect of death in the near future are forced to consider their fate more closely, often reassessing their priorities and rushing to complete the tasks that they find most important.
Spiritual Support
Death of the physical body signifies different things to different people. Some see it as the complete end of existence, while others view death as a transition into another realm. Many people who are in the last stages of their lives begin to take closer looks at their spiritual beliefs, sometimes turning toward or turning away from religion as a result of this examination. While some find strength and comfort in their religions, others feel a sense of betrayal when they learn that they are ill. No matter where each person's beliefs fall on the broad spectrum of spirituality, it is an important issue for most, and having opportunities to explore and discuss their beliefs and concerns with loved ones or spiritual advisors can be comforting for the terminally ill.
Support for Caregivers
Not only do terminally ill patients need assistance and support, their primary caregivers do, too. Providing care for an ailing friend or relative can be exhausting, both physically and emotionally. In addition to the fatigue common to caretakers, the prospect of losing a loved one can take its toll on the health and well being of those who are closest to the dying patient. Grieving begins with the knowledge that time is limited, but caretakers often fail to address their own needs, instead focusing all of their energies on seeing that their ailing loved one is provided for. Caregivers can benefit from the support of concerned friends, and should be encouraged to take time for themselves, hiring professionals to provide respite care, if necessary.
You might also like...