Maintaining a Patient's Dignity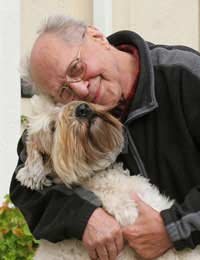 Finding that you are terminally ill is a devastating experience, forcing a complete turnaround in hopes and goals. Previously independent people may fear that they will need to rely on others for their daily needs, losing the ability to choose for themselves how their lives progress. Treatment options, end-of-life care, financial and spiritual concerns, and unfinished business may weigh heavily, adding to the sense that life has taken on the feel of a runaway train.
Respecting Patients' Wishes
Loved ones often search for ways to make terminally ill friends or family members comfortable during their last weeks and months of life, but may feel powerless to make a difference. One important step that can be taken is to assure patients that their wishes will honoured every step of the way. While it may be awkward to have conversations about end-of-life care, by doing so and encouraging patients to draw up living wills or ADRT directives, family members can know that even if the time comes when the patients are unable to speak for themselves, their wishes will be known and their instructions followed. If patients are hesitant to pen official documents, verbal instructions can suffice, but by failing to document their preferences, loved ones may be forced to guess at what the patient would have wanted, increasing the chances that late-life care and/or funeral arrangements may not go exactly as the patient would have wanted.
Choosing Caregivers
The group of people who provide hands-on care for terminally patients may consist of loved ones, professional carers, or a combination of the two. Often, the choice of caregivers is very important to patients, who may have strong preferences as to whether their primary carers are familiar. There are no right and wrong answers, simply personal preferences. Sometimes, close family members take on the responsibilities of daily care as a means of expressing their love and affection, but some patients may find intimate care more comfortable when handled by professionals. Again, the best way to decide is simply to ask the patient what they'd prefer and then to follow those instructions as closely as possible.
Encouraging Expression
In addition to encouraging patients to express their preferences about treatments options and end-of-life care, loved ones should also try to create environments of openness, where patients feel comfortable to discuss their hopes, fears, and other feelings, no matter what they may be. Many people experience a crisis of faith as the end draws near, either craving comfort from their religious beliefs or shunning them altogether. The diagnosis of a terminal illness is certain to have a profound effect on one's faith, emotions, and consideration of what they hope to accomplish in the time remaining. Showing respect for the physical, emotional, and spiritual needs of patients is paramount to helping them to live and die with dignity.
Caring for a close friend or family member who is dying can be difficult and exhausting, but by making themselves available, loved ones can help the patient (and themselves, too) to feel loved and valued, and to come to a sense of acceptance and peace about the impending death. People who are terminally ill do not lose their need to feel capable and with the help of those they hold dear, patients can live the last stretch of their lives in much the same way that they handled things previously – fully in charge.
You might also like...