Equipment for the Home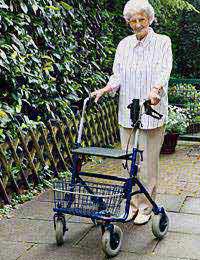 Many terminally ill patients have strong preferences to be cared for at home, but most homes are not necessarily equipped to handle the medical needs of home health care. Medical equipment can be purchased or rented, though, allowing families to keep ill family members in the familiar comfort of their own homes.
Assessing Need
Medical equipment for the home can make it possible for family members to keep terminally ill relatives as comfortable as possible in their homes, where they are able to live without the restrictions that many care facilities impose. Being able to keep personal items near and have visitors come at a whim can be great sources of comfort, especially important for those near the end of their lives.
Depending on the specific needs of patients, home medical equipment can range from simple comfort items, such as massage chairs, lift chairs, humidifiers, and adjustable beds to professional quality medical equipment, including defibrillators, intravenous supplies, and oxygen tanks. Some items can be purchased by anyone, while others require a doctor's prescription. Home health care professionals can help to administer medications and manage complicated care plans, but many items can be utilised by family members or the patients themselves. With proper instruction, patients or their loved ones can perform many caretaking tasks that are typically considered part of nursing care.
Insurance Coverage
While not all items are likely to be covered under medical insurance policies, some frequently are. Patients, or those acting on their behalf, should read policies carefully and contact the customer service departments of insurance companies to clarify any concerns regarding coverage. Home medical equipment, especially items that require a doctor's prescription, are usually covered, but comfort, convenience, or safety items, such as bathroom safety items, shower chairs, or nutritional support products may not be. Sometimes, non-prescribed equipment may be covered by medical insurance – it is common for walkers, hospital style beds, and wheelchairs to be approved equipment, while claims for wheelchair cushions, commodes, and over-bed tables are likely to be denied. Patients and family members may have to prepare themselves to battle with insurance companies, who are sometimes hesitant to authorise payments at first.
Learning to Utilise Medical Equipment
Some types of home medical supplies are easy to use, while others require a bit of training in their safe and appropriate application. Family members can ask retailers to provide instruction on the use of items that they are unfamiliar with, as most companies selling such items have well-trained staff members available to help patients and their carers to become adept at using the equipment. Home health care aids and nursing staff may be employed to help manage care for patients who are uncomfortable relying on family members to provide at home care.
While some types of home health care equipment are medically necessary, others are designed to enhance the comfort and safety of patients, making it easier for them to remain in their homes for as long as possible. Terminally ill patients often request that family members help them to arrange home health care so that they can feel safe, comfortable, and at ease in their homes, often right until the end. Illness, especially serious illness, often robs people of their ability to exert control over their daily lives, but when their homes can be equipped to handle their medical needs, patients can have some say in the care they receive during their precious last weeks and months of life.
You might also like...