Expressing Difficult Emotions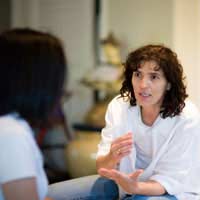 Babies and young children express all of their emotions freely but in time, they learn to control and even conceal some of what they are feeling, especially when they are sad, frightened, or angry. Many adults are comfortable expressing positive emotions, such as happiness, but may refrain from sharing feelings that they fear may make others uncomfortable. The process of grieving that comes along with a terminal illness, however, can put even the most stoic of individuals on an emotional roller-coaster, and expressing these feelings can help them to cope with their illness and impending death.
Personality Differences
Some folks are open and boisterous, while others are naturally more reserved. These differences in temperament and personality can become even more pronounced during especially trying times, as when they or someone they hold dear battles a serious or terminal illness. The tendency toward bottling emotions may make the grieving process especially difficult for some, providing them with little outlet for the often confusing and overwhelming feelings that they experience. Those who are comfortable in expressing their emotions are usually more able to reach out to others for the support and reassurance that they need.
Fear, Sadness, and Anger
The diagnosis of a terminal illness is sure to incite a wide range of emotions, with fear, sadness, and anger being quite common. Even whilst understanding that these feelings are perfectly natural, they are those that many people find most difficult to share with others. The reasons for this reluctance are as varied as the people themselves. Some hope to spare others the need to offer comfort and consoling, feeling that loved ones are already burdened with their own conflicted feelings, while others are simply not wired to display their emotions openly. Some terminally ill patients and others who are under a great deal of stress hold tightly onto their emotions in an attempt to maintain a sense of control – they describe feeling that if they allow themselves to falter even a little, they fear completely falling apart. Whatever the reason, those who are caring for someone with a terminal illness should allow the patient to express emotions as they are comfortable, while letting them know that they have the unconditional support of those who love them.
Leaving things Unsaid
One of the biggest regrets that many people have after losing a loved one is that they failed to fully express their love and appreciation while they had time. Unless the patient makes it clear that they do not want loved ones to gush over them, friends and family members should take every opportunity to talk about their happy memories and let the dying person know that they had a positive impact on the lives of those around them. This is not the time, however, to rehash old arguments or engage in battles over hurt feelings. Most relationships have their ups and downs, so when time is short, highlighting the good times is in order.
Knowing that time is limited can be a blessing. Many people die suddenly, leaving no time for expressions of love, no time for the saying of things previously left unsaid. While stress and anxiety are natural offshoots of knowing that a death is coming, this advance warning also allows patients, as well as those in their inner circle, to fully express their feelings for one another. And when used properly, that time can be some of the most meaningful of all.
NOTE: The information provided above is in no way intended to be a substitute for professional medical advice or treatment. Self-diagnosing and/or choosing to avoid medical care can result in serious health complications. Readers are advised to seek professional medical advice and/or care for all of their health concerns.
You might also like...