Holding on to Hope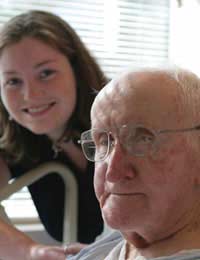 The delivery of a terminal diagnosis is bound to be received with a sense of shock. Even those who have been ill for some time and have experienced a variety of symptoms are not likely to fully expect their doctors to tell them that there is no hope. For some, though, hope is the one thing that they refuse to surrender.
Nothing is Certain
Many patients have been told that they have a short time to live, only to survive for many years, leading perfectly healthy lives. Even in the most dire of circumstances, there is always room for hope. Most people have heard stories of terminally ill patients beating the odds, and many know of someone in their own lives who has proven the medical community wrong. These stories may offer hope and inspiration for those who are just beginning their battle - providing them with evidence that even when the cards are stacked against you, all is not lost.
Seeking Support
Hope is contagious, so terminally ill patients who refuse to accept their diagnosis as a death sentence would be well served to seek out others who share their beliefs. By surrounding themselves with others who choose to look for happy endings, patients are able to maintain upbeat attitudes, giving them strength to tackle any obstacles that come their way. Support groups are plentiful - doctors and other caregivers may be able to offer recommendations for local meetings, and many are available online, as well. A simple internet search which includes the name of the illness, the words "support group," and the patient's hometown may provide links for groups, both in person and online.
Asking Loved Ones for Help
A devastating diagnosis affects many more people than just the patient. Friends and loved ones have their own struggles with the news and must come to terms with the difficulties of treatments and potential for loss. Patients often worry not only for themselves, but also for those who they hold dear, knowing that each person in their inner circle is facing their own emotional trauma. Loved ones should do all that they can to help terminally ill patients keep the focus on their own paths for healing, assuring them of their love and support. Knowing that others are able to handle any outcome can help relieve patients of many of their worries.
Alternative and Complementary Treatments
Many of those who refuse to give up hope in the face of a terminal diagnosis turn to alternative medicine in search of answers. When conventional treatments have failed to heal and traditional doctors have given up hope, some patients find solace in knowing that others who have come before have found healing from unconventional sources. Whether combined with mainstream treatments (complementary medicine) or as a sole means of treatment (alternative medicine), there are hosts of practitioners promising everything from symptom relief to actual healing.
Caution must be exercised, of course, when choosing caretakers, whether traditional doctors or alternative practitioners. Especially in the second arena, there are many who make grandiose claims, preying on the desperation of the terminally ill. That is not to disvalue alternative medicine, minimise its ability to provide patients with hope and relief, or disrespect those who practice; there are many kind and caring individuals who make the effort to provide valuable assistance to those in need. It is simply an acknowledgement that not all who offer help do so with noble intentions.
NOTE: The information provided above is in no way intended to be a substitute for professional medical advice or treatment. Self-diagnosing and/or choosing to avoid medical care can result in serious health complications. Readers are advised to seek professional medical advice and/or care for all of their health concerns.
You might also like...