Keeping Life as Normal as Possible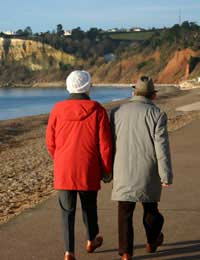 The delivery of a terminal diagnosis sets into play a series of life changes that are somewhat unavoidable. Despite the fact that disruptions are inevitable, dealing with illness can be made a bit easier if an effort is made to keep life as normal as possible.
Daily Routines
Most people have fairly well established daily routines. Illness and its associated treatments are bound to disrupt daily life to a degree, but it can be comforting to maintain as much of the normal routine as possible. Household tend to run rather efficiently, usually because the members have grown accustomed to one another's habits and have learned to interact and work as members of a team. Children, especially, often thrive on routine, so keeping to the usual schedule as much as it possible can help them to feel less like their lives are falling apart, even though either they or a family member is ill. The simplest acts, such as eating breakfast together or hearing their usual bedtime stories can offer kids comfort.
The Same, Only Better
Obviously, when armed with the knowledge that time is limited, people naturally strive to maximize the time they spend on pleasurable activities. This doesn't require overhauling entire lives, simply changing the focus of daily living to make the most of life's everyday blessings. Petty arguments and small grudges seem less important than they once may have, and little pleasures take on a greater significance. Families may linger longer over dinner, chatting and talking about their days, or they may simply choose to spend more time together, foregoing other, outside obligations. Whatever the specific preferences of each family, it is likely that the focus will shift a bit, with personal interaction ranking high on the priority list.
Encouraging Openness
Sometimes, after the death of a close friend or loved one, survivors wonder if they had done all that they could to make those last weeks and months as meaningful as possible. The best way to avoid this predicament is to encourage everyone involved to be open about their thoughts and emotions all throughout the illness period. Terminally ill patients may have unfulfilled wishes or things that they feel compelled to express and they should be allowed and encouraged to speak their minds and voice their concerns. Likewise, loved ones should put aside any caution about declaring their love and appreciation, and should be sure to say all of the things that their hearts feel.
Rocking the Boat
For some people, of course, keeping life as "normal as possible" is the last thing that they want to do. Some, when they come to the realisation that they don't have long to live, feel an urgent need to see and do all of the things that they've postponed, thinking that they had plenty of time. From travelling to bungee jumping to writing a bestselling novel, most people carry lists inside their heads of the things that they hope to someday accomplish. When the hands of time seem to speed up, as is the case for the terminally ill, checking things off of those lists is a now-or-never proposition, and many want to know that they've lived their lives to the fullest, right until the end.
When things are going smoothly, many people fail to see the beauty in every day, but with the diagnosis of a terminal illness often comes clarity about the things that matter most. Life is short - and for some, the end comes sooner than they could have ever imagined. Whether holding on to treasured routines or throwing caution to the wind and living lifelong dreams, terminally ill patients know better than anyone that life is for living. Every last minute of it.
You might also like...